Howdy folks! Well, we're safe and sound (and VERY tired) back in sunny..err...cold and rainy Madrid after an AWESOME weekend in Barcelona. When I last left you, we were getting ready to go out on the town Friday night. We went to Bar Marsella, and it was definitely one of the coolest bars I've ever been to (and I've been to a few). Originally opened in 1820, it has barely changed in over 180 years. The original paint still clings to the walls and ceilings, and the main drink is still pretty much what everyone drinks - absinthe. It wasn't as crazy as everyone makes it out to be, but it definitely is stronger than your average drink, which is probably why they have a 3 drink limit.
After we left Bar Marsella, we got some late-night dinner (the weird eating schedule still confuses me - I'm eating my late dinner while I type this at 10:30pm) and called it a night - we had a BIG day ahead of us the next morning.
We woke up Saturday morning and headed straight for Parc Guell, which is a famous park in Barcelona. It turned out to be about 45 minutes uphill across what seemed to be ALL of Barcelona, and a few of us were considering mutiny, but once we got there, it was pretty awesome. The parks here aren't like parks back home - they are much more forest-ish and have statues and nice sitting areas and all that jazz, and this place had all that and then some. We were there for a good 2-3 hours just exploring the whole place. We started out at the bottom and mustered up more strength to climb what seemed like 28,000 stairs to get to the peak of the park where you could see ALL of Barcelona, clear down to the harbor and all of the ships docked there. It was very cool. After reaching the Summit (as I like to call it, seeing as how I feel like I deserve a medal for climbing up there), we started back down to find what was purported to be "the world's longest bench." Sure enough, it was long. And pretty cool. In my head, I was picturing just a really long wooden bench and thinking "Who would build it, for what reason, and why would anyone care? It's a bench." But my cynicism was once again rejected when we quite accidentally stumbled onto the "Seating Area" (also a name I made up...I'm not very creative when it comes to naming things). This bench was HUGE. And really cool. It wound around this huge, flat area on the hill (Parc Guell is essentially a hill with small, winding terraces, except for the large Seating Area), and it was covered in awesome tile work. And it was pretty comfortable. Then again, after walking up and down that hill, anything would have been nice to sit on.
We left pretty soon after the bench - the rest of Barcelona was literally downhill from there, and we were well-rested after our much-anticipated sit on the bench. We got some quick lunch and then headed to "Sagrada Familia" cathedral, which was pretty spectacular. For anyone who has traveled Europe, there are a LOT of cathedrals, and after a while you get kinda jaded after seeing so many, and they all start to look the same. So I was pleasantly surprised to find that this one was not your typical cathedral. Construction began in 1882 w/ Gaudi (the same guy who designed Parc Guell and that big-ass bench) heading up the original design, with succeeding artists and architects following his death. It is not scheduled for completion until 2026. The long period of construction has resulted in one side of the outside of the church being almost completely distinct from the other, yet the styles blend to make an awesome, yet unique, building. The inside is still under major construction, so it was a very cool dynamic to be inside an old cathedral, but you were getting the unique opportunity to be able to see it coming together, with the scaffolding and mid-progress piece around you. Very cool.
After that, we headed toward La Rambla, which is the main downtown/tourist strip (where we were the night before at Bar Marsella). We set out for the Picasso Museum, but on the way there we stumbled across a Farmer's Market, and it was amazing. Fruit, vegetables, candy, meats, fish, anhything, and everything - it was there. And it was all very cheap and very fresh. We walked around there for close to an hour just checking out all the stands and people-watching. It was a very cool place with vendors and people just sitting and eating - makes me wish that we Americans weren't always so uptight w/ our vending and health laws, b/c we're really missing out w/ these big markets.
So next we went to the Picasso Museum, and it was pretty cool. The walk there was the best part - we took the back alleys, winding through some great little streets w/ some awesome architecture. The museum itself wasn't absolutely spectacular - having studied quite a bit of Picasso, I was a little let down because a lot of his great pieces were missing because they were traveling or on loan to other museums. It was still cool though, and I got the student discount - I'm not gonna know what to do when I (finally) finish school. Maybe a post-graduate degree? How does Dr. Vossler sound (jk Mom)?
From there, we headed back to our hostel at the highest point on the Earth to clean up for dinner. Pretty much everyone wanted seafood since we were on the Mediterranean, so we picked out a place from one of our guidebooks called "Envalira," and if I ever have the money one day, I will buy their chefs from them and have them live at my house to cook for me. It was ridiculously good. We shared some appetizers of which I had razor shell clams and button mushrooms (which are called "championetas" here - makes them sound so triumphant). I've not had clams in years, and now I wonder what I've been doing with my life by avoiding them. I got the grilled tuna for my main course, and I almost cried when I got to the last bite, I was very sad to see it go. So, so good.
We didn't end up doing much that night - first of all, we were pretty stuffed, it was after midnight when we left dinner, and we ended up getting lost trying to find some other people who were also in town from our Madrid program. But what an awesome day! Barcelona, I think, will prove to be my favorite city in Spain...it's gonna be hard to beat!
Sunday morning, we woke up around 10am and checked out of our hostel, dropped our bags off at the train station, then headed to the beach. It was great to just relax and lay by the beach with a few drinks for a few hours after 2 days of travel and seemingly endless walking. There were way too many speedos and more than a few ladies who should have kept their tops on, but all in all, I couldn't complain - they cabana did, after all, have the best mojitos I've ever tasted before. Some of my flatmates are now dealing with some severe sunburn, but I'm pretty good - thanks Mom and Dad for giving me the genes to turn brown instead of just outright burning like mostly everyone else. We got some quick dinner on the way back to the train station, and then endured the hellishly slow, nine-hour train ride back to Madrid. And of course when we step off of the train in Madrid, it's rainy and in the low 50s. Welcome back, kids.
But the weather is supposed to make a turn for the (much) better starting tomorrow - 80s and sunny by Wednesday through next week....it's almost time to start using our pool! We're thinkin' bout heading to San Sebastian this weekend, seeing as how it will be our last weekend for the 6 of us here at our place will be able to go somewhere together for the weekend.
Anyway, I miss all y'all and hope all is well. I will post some pics up here later, but I took over 100 photos, and they take a LONG time to post here, so follow
THIS LINK
and
THIS LINK
to see all of them. They're on Facebook, but you don't have to have an account or anything - they're public albums, so check 'em out! Let me know if y'all have problems following the links, I can figure something else out if so.
Love,
Ben
Outside the Museo Picasso.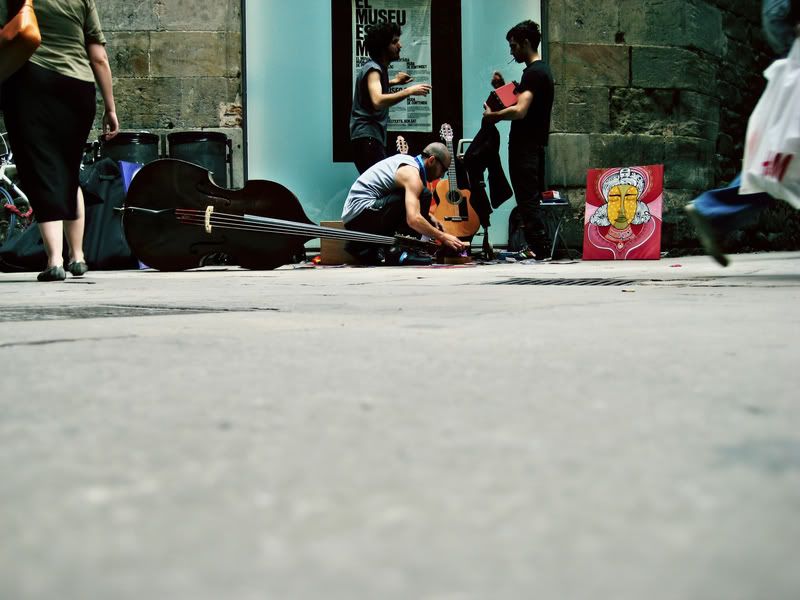 Bar Marsella.
Farmer' Market
Barcelona Harbor.
La Sagrada Familia.
The Big-Ass Bench at Parc Guell.
Farmer's Market.
Off La Rambla.
La Sagrada Familia.
Farmer's Market.
Bar Marsella.
La Sagrada Familia.
The Beach at Barcelona.