Hey y'all! Well, I just finished my first week of school, and it feels great. Nothing really new has happened the past couple days. I've just been going to class and takin' some siestas. Last night we went to an AWESOME tapas restaurant. I don't know if everyone's heard of "tapas," I know I hadn't before I came here. But basically, Spain is known for them, and now I understand what the big deal is. Tapas is basically their version of appetizers, but the people here eat them as meals. The place we went last night prepared them on small slices of bread, and they brought out a huge selection of them. Some had shrimp on top of broccoli and cheese puree, some had braised veal w/ alfredo sauce, others had raspberries w/ fresh mozzarella, etc. They are SOOO good and pretty cheap. I'll take pictures next time, b/c they look really good too, great presentation.
It's also strange at first, but it's also really cool - mostly everyone stands up while eating and walks around, talking to people in their group. You just hold your tapa w/ a napkin and hang out while eating dinner. I felt kinda embarrassed/rude at first b/c I'm strolling about, eating w/ my hands, getting food on my face, but then I realized everyone else was doing it and not caring.
Afterward, one of our RAs took us to what was, by Spanish standards, a pretty big streetside bar (they're usually tiny - shoulder-to-shoulder kinda deals), and it was awesome. The owner was British and just a couple years older than the rest of us, so he sent us some free tapas (this time, they were basically homemade potato chips, but still pretty tasty) and bought us some free shots. Which is another thing - Spaniards love buying Americans shots. It makes me wonder exactly what they think of young Americans, but hey - free is free. At the family-owned restaurant we went to a couple nights ago (which was delicious and cheap - wine, bread, and 2 big courses for €10), our server was an older guy who loved us (especially the girls) and kept bringing us these different shots of special liquors his family makes. It was pretty funny. The first picture below is at that restaurant.
It's still pretty chilly outside and it's been sprinkling here and there, but I've actually gotten used to it. Plus, with all the walking you do, it's kinda nice. And you can always warm up in the Metro stations. I've also adjusted to the weird time schedule everyone is on here. I go to bed between midnight and 2am, wake up around 7am, go to class, then take a siesta around 2, dinner around 9pm, and repeat. I kinda like it. But it's pretty obvious that Americans work a lot more, so unfortunately the siesta idea probably won't work out back home. Oh well.
Oh and another pleasant surprise - Diet Coke (or "Coca-Cola Light" as they call it) tastes AWESOME here. It kinda worries me as to what they're putting in it to make it taste so much better than American Diet Coke, but it's great. And I was kinda surprised that it's really not much more expensive than in the States.
I guess that's about it for now. A bunch of kids from the law program are coming over to our place tonight around 10pm to meet up and hang out since we have the biggest place, then we're gonna make our first outing to the clubs around 12 or 1am. It's supposed to be awesome, so we shall see! And then tomorrow we're goin' to the Prado museum, which I'm VERY excited about - it's one of the most famous museums in the world, and it's also huge - almost as big as the Louvre.
Anyway, hope everyone's doin' well back home, miss y'all, love y'all, and I'll write tomorrow!
Ben
The flatmates (we're missing one guy) and I at Carmen Restaurant w/ our favorite waiter in Spain.
Sarah, my flatmate across the hall, and I at the bar after Tapas (and a free shot).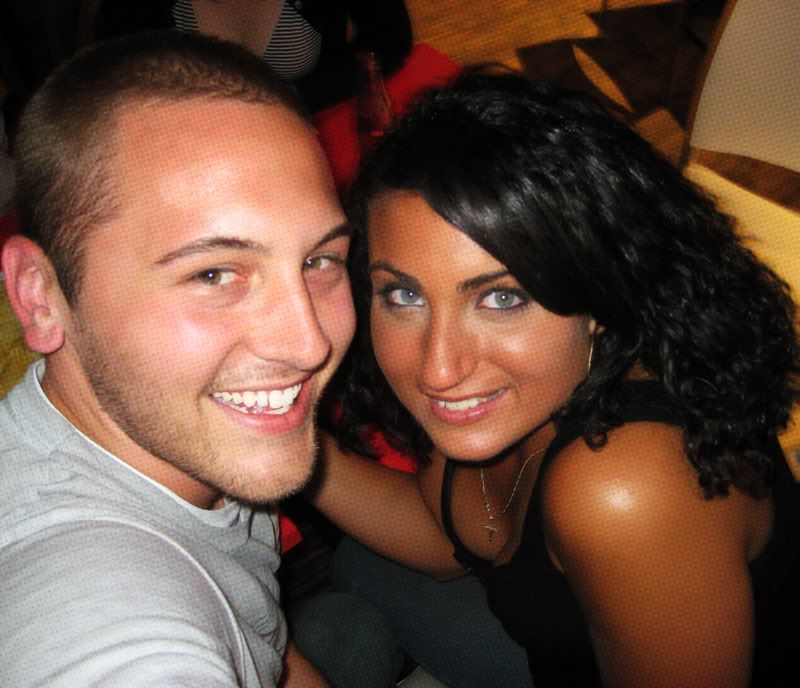 Street near my flat.
There was a Jeep on campus! Strangely enough, it really made me miss Zona.
Walking back home at midnight. Quite possibly the biggest hill in the world.